December 12, 2013 Courtesy of Microsoft.com
New York will once again be THE place to be when the National Retail Federation's BIG Show comes to town from January 13 - 14, 2014. Microsoft will be Delivering the Future of Retail Today with solutions that are personal, seamless, and differentiated.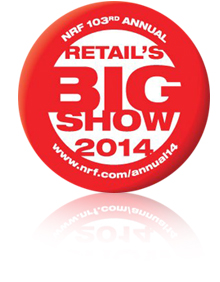 As sponsor of the Chairman's Circle, the opening night reception, three Big Idea speaking sessions and one of the largest booths on the show floor, Microsoft will have a strong presence this January in New York City at NRF 2014! We are excited to showcase a range of innovative end-to-end solutions and devices that empower retailers to thrive in today's shopping environments.
Big !dea Sessions:
Monday, January 13, 1:00 – 1:45 pm
The New Era in Retail – Windows 8 Tablets
Faced with tight competition, changing customer expectations, and a growing number of consumer channels and shopper devices, retailers are squeezed from every direction. Microsoft helps Retailers delight their customers and increase efficiencies. Windows 8 tablets help sales associates provide personalized customer service, enable store managers to oversee employees from the store floor, and help merchandisers efficiently manage retail execution from end-to-end. Windows offers devices and experiences users love with the enterprise-grade solutions Retail requires.
Monday, January 13, 3:15 – 4:15 pm
Become a Dynamic Retailer and Make Sure You're Ready for What's Next
The retail industry is undergoing one of the biggest transformations in 20 years. Microsoft's vision for retail through its Stores, devices, and end to end retail solution - Microsoft Dynamics for Retail – is to provide a complete shopping experience for retail built on innovation and a unique value proposition – delivering on the promise of true omnichannel retail. Join us as we highlight this through the lens of innovative customers and compelling product demonstration.
Tuesday, January 14, 2:30 – 3:30 pm
Engaging Modern Retailers through Enterprise Social
To enable vital connections and collaboration, retailers are needing to provide integrated tools that are social, easy to use, and can connect employees, partners, and systems across the organization to solve business challenges. Microsoft is helping Retailers by enabling teams (employees AND partners) to connect, learn from one another, share information, and create value together. Join us to hear how Retailers have been innovating quickly and approaching the Social journey.
To find out more about the Big Idea Sessions, solutions that will be featured in the booth, and to register click here and be sure to visit Microsoft at the show, booth #2703.